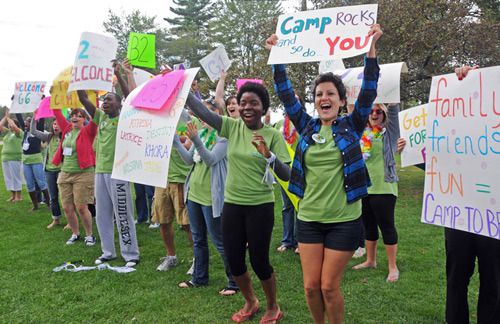 I woke up this morning with a huge smile on my face. I was dreaming of Camp To Belong MA. Looking at the calendar it dawned on me – in six months we will be in the Berkshires celebrating our 8th season of CTB MA. Campers and counselors will truly be jumping off the water trampoline, riding the banana boats, swimming, boating and playing volleyball down by the waterfront. I will be sitting in my green chair down on the dock with friends and family, drinking in all of the action, thinking "Life is Good!"
Camp To Belong MA is a wonderful summer program sponsored by Sibling Connections, the only non-profit organization in the Commonwealth that is dedicated to providing sisters and brothers who have been separated when placed in foster care with year-round events and opportunities to stay connected.
For the past eight summers we have invited siblings from across the state to join us for a week at camp. 50+ trained volunteer counselors join the kids and spend approximately 120 consecutive hours together creating joyous shared memories – memories that will last a lifetime.
When asked what they love best about CTB MA, campers typically say, "Eating breakfast, lunch and dinner with my sisters and brothers.", "Spending the whole day with my sister/brother!", "Riding horses with my siblings!" "Getting to be with my family for a whole week!" "All of the memories in my Camp To Belong MA scrapbook!"
During the week, boys sleep in cabins on one side of camp, girls on the other. In the morning they wake up, get dressed and saunter over to the Dining Hall with their counselors to join their Family Group. Each Family Group is composed of 2-3 sibling groups and a cadre of counselors. Together they move through the day, sampling the day's offerings, guided by the counselors' talent, energy, expertise and wisdom.
Counselors range in age from 21 – 63 and come from all walks of life: accounting, child welfare, education, health care, journalism, mental health. We have doctors, lawyers, nurses and award winning photojournalists. Foster care alumni and foster/adoptive parents. It's a diverse and dedicated group of caring community members, eager to do what's right for our children and youth who have been placed in foster care. As campers swim, ride horses, bake, make each other sibling pillows, play basketball, scale the climbing wall and fly through the air on a flying trapeze, their counselors are by their side.
When asked what they like best about volunteering at Camp To Belong MA, counselors often say they love giving the kids the opportunity to be together and celebrate their sibling relationship. They enjoy being part of an organization that is doing the right thing for siblings experiencing foster care. They can't imagine being separated from their own sisters and brothers and want to do everything they can to support the development of healthy life-long connections for their campers.
The majority of CTB MA counselors are veterans who come back year after year. Those who live in Massachusetts often volunteer to support the year-round sibling connection initiative sponsored by Sibling Connections. One veteran counselor, an outstanding social worker who lives and works in Connecticut, volunteers her time and talent year-round. She has this to say about her camp memories: " As brothers and sisters join a group of volunteers at the start of each season of CTB MA, I experience a wave of emotions. When the first sibling gets off of the bus, I know for the next five days I will be a part of something greater than myself. When I see the first sibling group give their hugs to one another, I know that I will be inspired with each moment that passes. When I see the last camp fire of the season come to a close, I know that I have been privileged to be a member of the Camp To Belong family."
I agree. Looking back over the past 7 years of Camp To Belong MA, the salient take-away for me is the feeling of goodness that permeates the air. The kids are able to look around and know that everyone understands their life circumstances. They are respected, valued, cared about, honored and supported by a community of wonderful people who repeatedly send them the messages:
"You are worthy!"
"We care about you!"
"We love spending time with you!"
"You deserve goodness and opportunity!"
As we set out to raise $100,000 for our 8th season of Camp To Belong MA, we thank the generous individuals, philanthropists and foundations who find CTB MA worthy of their financial support. Without you and our outstanding cadre of volunteers this program would not be possible.
Thank you for investing in the lives of children and youth placed in foster care. Thank you for investing in stellar programming. Thank you for investing in foster care innovation.