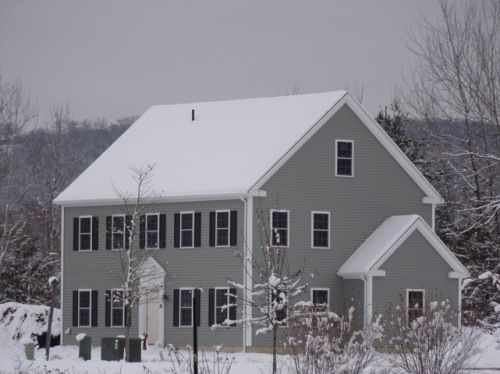 Snow is on the ground. Spring is in the air. The Treehouse Community Garden is a topic of conversation. People are walking their dogs, checking out new home construction and welcoming our wonderful new neighbors, who have just moved into their stunning new energy efficient home.
This is our sixth spring on Treehouse Circle. Since we opened in 2006, over 100 people, ranging in age from 3 – 93, have come together to invest in one another's health and well-being.
The mission of the Treehouse Foundation is to inspire, implement and support innovative practices which ensure that children and youth placed in foster care find their places in loving, connected life-long family relationships and supportive communities that help them lead fulfilling and productive lives. The Treehouse Community does just that and we are interested in sharing the Treehouse Approach with others across the nation.
In 2003, we collaborated with Beacon Communities and Berkshire Children & Families, our stellar housing and child welfare partners, to build a multi-generational neighborhood where families who are adopting children from the public foster care system live with caring neighbors of all ages. We designed and built a Hub of Innovation; a learning community where we are finding out what it takes to help a youngster who has experienced foster care thrive and soar.
We started designing a compelling menu of engagement options to give Americans exciting new ways to become resources to children and youth; both those living on Treehouse Circle with their permanent families and those living throughout the region. We became a catalyst for collaborative social change. We planted seeds for the Re-Envisioning Foster Care in America Initiative.
Treehouse has become a Hub of Innovation for Foster Care Adoption by forming innovation partnerships with colleges, universities, non-profits, businesses, educators, mental health providers, philanthropists, psychologists and child welfare professionals. We thoroughly enjoy collaborating with folks who think out-of-the foster care box. Visionaries who want to change the foster care narrative in this country. Citizens who want to make it possible for children and youth whose lives have been impacted by foster care to connect to people who will care for them and about them forever.
While all of this dynamic social change was afoot, we began to plan Phase Two of the Treehouse Community with our partners : Home Ownership. We wanted to invite more people to help us Re-Envision Foster Care in America and expand the Treehouse Community model to include both rental and home ownership opportunities.
Beacon Communities developed energy efficient home designs. They began building two, three and four bedroom homes that are designed to both reflect the historical vernacular of the Pioneer Valley as well as the environment. These ultra-low energy homes are designed to use 60% less energy than comparably sized new-construction homes. If an owner decides to incorporate solar electric panels on the roof, the homes are designed to perform at a "net-zero" energy usage, which means that on an annual basis, the energy created will be close to or exceed the energy needs.
Home ownership opportunities abound! Singles, couples, young families, seasoned families and folks who are downsizing have all expressed an interest in purchasing a home on Treehouse Circle. Prospective home buyers can choose from:
-9 thoughtfully planned building sites
-7 home designs
-2, 3 & 4 bedroom designs ranging from 1,500 – 2,365 sq. ft
Come live the Treehouse mission and vision! Be part of something that is truly special. Help us make sure that every child is rooted in family and community.
Call Dave Ryan @ 413. 977. 9184 for home ownership information today!