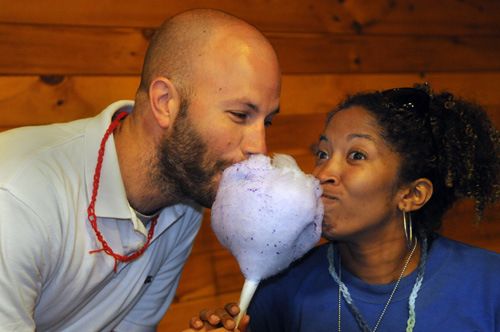 Over the past few months I have had the distinct pleasure of chatting with a group of veteran Camp To Belong MA campers – young people who have experienced our week long Sibling Connections summer program at some time over the past seven years.
I have met up with them at youth leadership gatherings, during sibling visits, at Treehouse, and around town. As we share our favorite memories of CTB MA, I find one common theme always emerges: In addition to seeing their sisters and brothers, the kids really appreciate that they have the opportunity to spend time with outstanding role models – our CTB MA volunteer counselors, ranging in age from 21 – 63, who introduce them to new life options as they begin to envision life after foster care.
Campers say they enjoy learning from young adults who are attending college, working, living on their own or with roommates. They like seeing older couples who model respectful relationships and healthy parenting. They feel grateful for the adult siblings come come to camp together and highlight different ways sisters and brothers stay connected. They love hearing from foster care alumni about things that worked for them as they emancipated from the child welfare system.
Being introduced to this vast array of life choices is something every youth I talk with thoroughly enjoys about the Camp To Belong MA experience. They also like the fact that they can spend additional quality time with Sibling Connections volunteer counselors if they choose to attend our year-round Sibling Saturday and Sibling Sunday programs.
Connecting with role models and mentors is truly important for our nation's children and youth placed in foster care. As Camp To Belong founder, Lynn Price, a foster care alumna says, "One thing we know for sure. Our young people who are experiencing foster care today will grow up and leave the system."
As someone who did just that, Lynn knows all too well that every year 25,000 young people "age out" of our state child welfare systems, typically between the ages of 18 – 22, and are sent out into the world without all the supports we take for granted: enduring family relationships, community connections, a home.
The result: they face homelessness, unemployment, incarceration, teen parenting, isolation and exploitation as they make their way into adulthood. Many times there is no one investing in their lives or their futures. No one is listening to their dreams or offering to help them find the necessary resources that will help them move forward in the best possible ways. Frequently they lack role models to show them how to make positive choices that will result in good outcomes. Sadly for many of our young people whose lives have been impacted by foster care, when they emancipate from foster care, no one is even making sure they have a hot meal.
-65% emancipate from foster care without a place to live.
-25% become homeless within the first two years
-51% are unemployed
-25% become incarcerated
-Less than 3% go to college
-Within 4 years, 60% have had children, and those children are twice as likely to be placed in foster care.
Due to these realities, I listen very closely when our CTB MA campers tell me what they find helpful. As one of the leaders of Sibling Connections, I also want to make sure that our programming is meeting the emerging needs of CTB MA campers.
Here are some of the stories campers have shared:
One young woman said two of her CTB MA counselors became her foster parents and provided her with a secure home environment. Then they helped her successfully complete high school, find a job, set up a bank account, learn to drive and get her driver's license. They also guided her through her college application process, helped her transition to college and remain in her life as role models and extended family members.
Another young woman told me that she thoroughly enjoys the time she spends with her sisters at CTB MA and will always treasure the memories she has of their time together. Equally important for her: to spend time with female counselors who are college students or college graduates; young adults who are out in the world following their dreams. She spoke of how critical it is for her to hear counselors speak about the road ahead. She likes asking them specific questions. She loves it when they offer to help her create her own roadmap forward. She said that her CTB MA counselors inspire her to dream and seek the resources she needs to achieve the life she envisions for herself.
A young man shared that he likes being with his siblings and at this time in his life, he finds it even more important to be in a sane and peaceful environment that is so different from the one he has grown up in. He appreciates being with an intergenerational group of counselors. He is especially grateful for the male role models at camp because he has never lived with his father. This youth has a concrete vision for his life and needs a bridge to help him transition to a new era. He talks with CTB MA counselors about college options and what he needs to do over the next few years so he can actually achieve his dreams.
Poverty is the root cause of foster care. One young man who understands this reality said that he was placed in foster care because his family has not been able to move out from under the shadow of poverty. He wants to break this cycle but is not sure how to do it. He knows he does not want to be the next generation of our nation's homeless and poor. When he's at CTB MA he feels energized by the team of hardworking counselors. They give him hope. They talk with him about the importance of a high school diploma. They offer to tutor him. He knows they will help.
A 14 year old said that she loves everything about CTB MA! It is the place where she feels like she is a regular kid just doing what typical siblings and families do. Those positive emotions fill her up so when she goes back to school feeling "different" and "less than" she can pull out her CTB MA photo album and re-live her time at camp. Her memories strengthen and sustain her.
The mission of Sibling Connections focuses on providing sisters and brothers who have been separated when placed in foster care with opportunities to come together to create joyous shared memories all year long.
The vision of Sibling Connections is that one day all sisters and brothers who are placed in foster care will be provided with year-round programs and events that allow them to spend time together engaged in developmentally appropriate activities with trained volunteer counselors from their communities who act as stellar role models and mentors.
Listening to campers and counselors who participate in our programs is a critical piece of our evaluation process. It is inspiring to see how many people who have entered the world of child welfare through Sibling Connections programming have gone on to become valuable resources to campers: social workers, foster parents, medical professionals, adoptive parents, educators, visiting resources, philanthropists, animal therapy providers, mental health professionals
and more!
These important conversations over the past 7 years have helped us develop our roadmap forward. Here's to the next 7 years! May we all continue investing in widespread foster care innovation so that every child is rooted in family and a community that supports in their health and well-being.