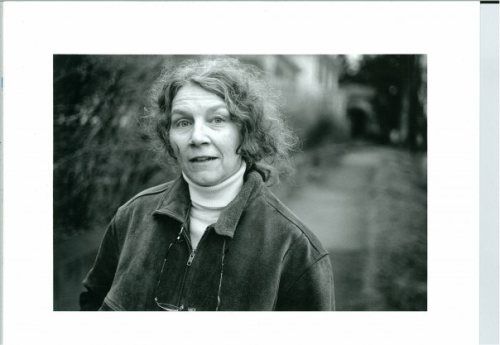 This morning we gathered at the Community Center to honor the life of Anna Kirwan, one of our beloved Treehouse community members. Anna died in her home last week, surrounded by her loving family. The announcement in the Hampshire Daily Gazette said, "Anna C. Kirwan, 63, of Easthampton, died early Easter Sunday, courageous and sweet to the end."
I have met many wonderful people over the past decade in my tenure at Treehouse. Anna was one of my favorites. She had a vibrant and loving spirit and was a wordsmith extraordinaire. Our Writer in Residence, she inspired both the young and the young at heart while living at Treehouse.
A published author and poet, her resume was impressive. She published nine books for young readers, two poetry books, numerous short stories and an array of poems in anthologies and journals. She was a member of the Authors Guild, the Society of Children's Book Writers and Illustrators, and a charter member of the prestigious Amherst Writers & Artists, Inc., also serving on its board of directors.
No doubt about it, Anna was accomplished. She was also one of the most generous people I have ever met. Today, as we shared our appreciation for her goodness, intelligence, and willingness to help anyone who knocked at her door, I remembered an Anna Moment – one of the many delightful encounters that we shared over the past six years. It took place in 2006, shortly after she had moved across the street from seven children who she clearly adored.
A mother of three, Anna was truly comfortable with kids. There was always a group of youngsters helping Anna with her kittens, digging with her in the beautiful flower garden she planted just outside her front door or asking to borrow a book from her vast library (one of the young women who shared her memories today spoke about the double layer of books on Anna's bookshelves).
On this particular day, I was walking to Anna's house to return a book she had loaned me. An avid reader myself, I was drawn to the reading sanctuary she had created with her white couch, tall bookshelves, rocking chair, piano and favorite objects. I had to stop myself from pulling a book off the shelf, plopping down on the couch and passing the day reading – one of my favorite pastimes.
"Come in!", Anna called when the doorbell rang. I opened the door on a magical scene. Anna was seated in her rocking chair – a family heirloom that her grandmother had rocked her father in when he was a baby. One of her young neighbors was on the couch across from her with a kitten lying across his stomach. She was reading to him from a large book lying on her lap. A feeling of peace was floating through the air. They were both lost in the story's adventure. I felt privileged to witness this Anna Moment. It was such a gift – for the child who was being nurtured in such a safe and loving environment, for Anna whose goodness was deeply appreciated, and for me.
I was able to witness this kind and generous person who had chosen to move to Treehouse – a newly launched multigenerational neighborhood designed to support families adopting children from foster care – living the Treehouse mission and vision in the most loving way possible.
Murmuring my appreciation for the borrowed book, I placed it on the coffee table and quietly slipped out the door. The magic of that moment is something I will never forget. It was what child welfare professionals call "best practice".
Many people at today's Celebration of Life mentioned their appreciation of Anna's "best practices": as a writing teacher, friend, neighbor, role model, storyteller, wise elder and fellow traveler on this journey called Life. Anna created a sacred space for anyone who asked. We are blessed to have shared our lives with her
and to carry her forever in our hearts.