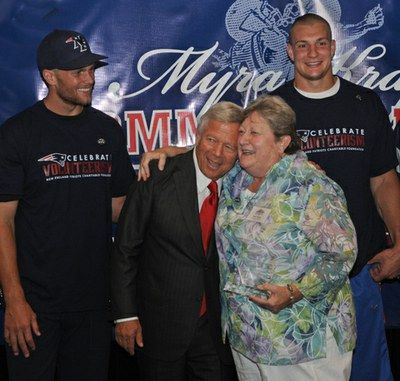 "I was standing under a tree watching my daughter's horse back riding lesson. It was a Friday afternoon. My cell phone rang. It was a call from the New England Patriots. A lovely Patriots staff member informed me that Treehouse community member, Rosa Young, had been chosen to receive a prestigious 2012 Myra Kraft Community MVP Award for her outstanding volunteer service to the Treehouse Foundation. Recently Rosa attended an awards ceremony at Gillette Stadium. She thoroughly enjoyed meeting MVP quarterback Tom Brady and hugging Patriots owner Robert Kraft. This is why she was honored."
In 2006 while listening to NPR in her home state of Michigan, retiree Rosa Young heard a story about Treehouse – a brand new planned multi-generational community in Massachusetts where children who had experienced foster care were being given the chance to thrive in permanent loving homes and live in a vibrant neighborhood where elders volunteered as "grandparents" and served as mentors to children and families – a village where children found not just parents, but also grandparents, playmates and an entire neighborhood designed to help them grow up in a secure, nurturing environment.
Rosa listened closely. She had spent her career working with disabled adults north of Boston and was looking for a meaningful way to live in this new era of her life. She did her research and chose to become a volunteer grandparent at Treehouse. She describes the process: ".. My dog Chloe and I jumped in our PT Cruiser, overflowing with our belongings, and drove 1,000 miles to Treehouse. The description of the Treehouse Community in Easthampton on National Public Radio, a conversation with the Treehouse Community Facilitator, Kerry Homstead, the Treehouse Foundation website, and other Treehouse materials had lured me to take a leap of faith and move. I could not be happier."
Since moving to Massachusetts in 2006, Rosa has been a pillar of the Treehouse Community. She has woven a network of goodness and caring throughout the entire neighborhood where over 100 people, ranging in age from 4 – 93, live on Treehouse Circle. Rosa wakes up every morning and goes out into the world ready to serve her neighbors of all ages. She cares for the sick, supports families in need, brings joy to children and serves on the Treehouse Foundation board of directors. Rosa Young is an inspiration to us all. She is a selfless, humble, compassionate and awe inspiring Treehouse volunteer who lives the Treehouse mission every day of the year.
The impact of Rosa's service is far reaching. Every week Rosa actively volunteers her time and expertise to support a family with five children. She picks the children up from school, feeds them dinner, helps them with their homework and provides a predictable, safe and loving environment for them which enhances their health and well-being, helps them successfully integrate into their adoptive family and succeed in school. In addition, Rosa provides their parents with respite and support. This concrete support, which extends across three generations, is reciprocated. Both the children and parents appreciate Rosa's contributions to their family and are there for her in times of need.
Rosa also volunteers her time on several Treehouse Child, Family & Elder Teams, lending her expertise, life experience and wonderful energy to support Treehouse community members of all ages. Her willingness to help others deal with emerging needs enhances everyone's well-being and strengthens the Treehouse Community model. Rosa is ready, willing and able to drive her peers to doctor's appointments, fill out insurance forms, deliver food, care for children, sit with her neighbors who are ill, participate in community wide activities and help develop a strong and vibrant neighborhood where everyone is valued, cared for and appreciated. Rosa's daily volunteer efforts help create a Culture of Possibility. Her friends call her "Treehouse Rose"!
As a Treehouse Foundation board member, Rosa's position as Treasurer, is critical to the capacity building and sustainability of the organization. She brings her Treehouse community member perspective to the board and is a key Treehouse Ambassador. She helps raise money, host events, and shares knowledge and information about the value of the Treehouse Community Approach with others locally, regionally and nationally. Rosa volunteers her time as a Treehouse Ambassador to help change the foster care narrative in this country. Her generous contributions model what it takes to help a child whose life has been impacted by foster care thrive.
Rosa's capacity to support children, families and elders living at Treehouse also extends beyond the actual neighborhood. Here is an example:
In 2004, one of her young neighbors who has Down's Syndrome wanted to attend Camp To Belong MA, a wonderful summer camp program designed to serve sisters and brothers who have been separated when placed in foster care. She wanted to spend time with her younger sister who was living in another home in Connecticut. In order to attend CTB MA she required a full time one-on-one aid. As her mother and CTB MA staff were thoughtfully considering the options, Rosa offered to go to camp as a volunteer counselor. She packed up her suitcase, drove to CTB MA and spent the week helping this young camper move through the day successfully.
I do not believe that Rosa thinks of herself as a volunteer. She simply lives her life in a way that is aligned with her core values. She is filled with humility and a deep respect for others. That is her motivation for heading out the front door in the morning – to lend her warmth, goodness, expertise and compassion to those who might need a helping hand.
Rosa Young showed up at Treehouse ready, willing and able to volunteer her time, treasure and talent to actively support staff, neighbors and Treehouse Foundation board members. From the very first day she has been a value add to the Treehouse Community. Rosa radiates kindness, humor and intelligence. She is helpful to all. Rosa embodies the characteristics of an outstanding citizen and highly engaged community member:
-She lives by her own highest standards.
-She maintains dignity and grace in all circumstances.
-She helps elevate the behavior of others.
-She operates from a larger, inclusive perspective.
-She increases the quality of every Treehouse experience.
-She behaves with courtesy, respect, appreciation, gratitude & generosity of spirit.
-She strengthens the integrity of all situations.
-She increases the confidence and capabilities of others.
-She consistently finds new ways to make life better for others.
It is an honor to know Rosa and to have her goodness woven into the fabric of everyday life in the Treehouse Community. Her contributions help restore the health and well-being of vulnerable children, families and elders, build a vibrant and caring multi-generational community model for the nation and inspire a re-envisioning of foster care in America. Myra Kraft would have loved her!