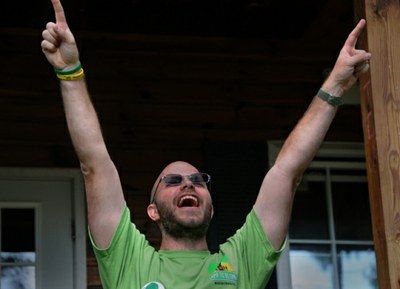 On July 24, 2007 I received an email from Connie Harris, our Camp To Belong MA counselor outreach coordinator. The opening line read: "Wow… This is the first reference I have received for Byron. Pretty impressive." I eagerly read Connie's email. Then I printed the reference out and tucked it away. Every year I take it out and re-read it. It's the best reference letter I have ever seen.. Truly genuine and written by a pro. Here are my favorite parts.
Byron is incredibly thoughtful and amazingly good with kids. He is, quite simply, one of the most natural teachers I have ever known. He cares passionately, he has a wonderful sense of humor, and he is possessed of almost incurably upbeat energy. I could go on.
But if I'm right in understanding that this is a job working with children in foster care, I don't think I need to – or should. Grab him. Grab him by the ankle and don't let him go. You will be delighted you did. More than that, the kids with whom he works will have an extraordinary time with him. He deserves to touch such lives. And such young people deserve to get to know Byron.
We grabbed him …. As a teacher, I couldn't wait to meet Byron and see him in action. From the moment he met the campers it was clear – he is that good! When Byron's fabulous energy is mixed in with all of the goodness that his fellow counselors bring to the kids, I can't stop smiling!
Byron came to Camp To Belong MA as a volunteer counselor for the first time in 2007, with his amazing wife Kyessa. Last summer he took on the role of our CTB MA Youth Leader. This August he's coming back to lead us forward into our 8th season, and we are delighted to have him!
Join Byron and the 2012 CTB MA Crew in the Berkshires. August 18 – 25. We will welcome sisters and brothers from all across the Commonwealth. Siblings who have been separated when placed in foster care. Kids ages 8 – 20 who look forward to spending the week with Byron and our stellar team of CTB MA volunteer counselors.
What will they be doing ??! Let's see… This year's schedule offers campers the opportunity to create joyous shared memories while riding horses, climbing the rock wall, swinging from the flying trapeeze, swimming, boating, enjoying a carnival, celebrating one another at a camp wide birthday party, singing, dancing, being artistic and, enjoying one another's company. In short, hanging out being kids. Together.