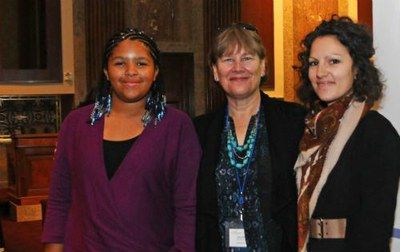 Oh, what a beautiful morning! Calls from reporters who want to interview me about winning this year's Purpose Prize are coming in fast and furious! I am elated.
It is such an honor to win the Encore/AARP award. Being able to stand on the
national stage to talk about foster care innovation is a privilege. Getting
millions of Americans to think about how we can all come together to enhance the lives of children and youth placed in foster care makes my heart sing. Telling
people about the work of the Treehouse Foundation, Sibling Connections and
Birdsong Farm fills me with joy.
The Encore/AARP Purpose Prize award shines a light on the Re-Envisioning Foster Care in America Initiative that we launched in 2010. It holds the Treehouse Community/Hub of Innovation model up for consideration. It celebrates the year-round Sibling Connection program model we created for sisters and brothers who have been separated when placed in foster care. It moves people to go onto the Birdsong Farm website
to learn about our exciting farm based Education Center.
Thank You!
To the person who nominated me, to the folks who supported my nomination and to the national Encore/Purpose Prize trustees who found my work over the past decade worthy of national recognition.
The reporters are asking lots of great questions. Hopefully, they will write an
array of interesting stories that inspire philanthropists, foundations and
ordinary citizens to make generous donations so we can build on all of the
goodness that has been created over the past ten years.
Here are some of my favorite questions so far:
"You just won a national award for inspiring a Re-Envisioning of Foster Care in America. How does that feel?"
"When you first started out Re-Envisioning Foster Care a decade ago, did you ever imagine that you would win a national award?"
"I hear the Purpose Prize national vetting process is rigorous. Were you surprised that you made the cut given all of the competition?"
"You say that most Americans think there are only two ways they can support a child placed in foster care: Become a foster parent and/or Adopt a child from foster care. The result: Millions of Americans turn and walk away from the children in their communities who need them the most. Is that why you began to Re-Envision Foster Care in America?"
"You became a foster parent at the age of 48 and completely changed your life: you sold your businesses, became a full time child advocate and established three non-profits to begin building a compelling new Menu of Engagement Options so Americans of all ages could become resources to children in foster care. Are you proud of your accomplishments?"
"You clearly believe in collaborative social change. Each one of your non-profits has developed many unique partnerships. What is it about the power of partnership that you find so compelling?"
" Your Re-Envisioning Foster Care Menu of Engagement Options is growing bigger every year. Do you plan to share it with people in other states?"
"You have hosted three annual Re-Envisioning Foster Care Conferences since 2010, with a fourth planned for May 2013. Do people attend to learn more about foster care innovation?"
"Last week the Congressional Caucus on Foster Youth came to Treehouse to hear about the Treehouse Community model and the Re- Envisioning Foster Care in America Initiative. Do you think they left feeling inspired?"
"You won the Congressional Angel in Adoption Award in 2010. How do these important national awards like the Purpose Prize and the Congressional Angel in Adoption Award help you? Does it give you more credibility? Can you access more funding to better serve children and to replicate the innovative program models you have developed: The Treehouse Community, a year-round Sibling Connection initiative and the Birdsong Farm Education Center?
"What do you hope the Purpose Prize will do for children and youth in foster care?"
"Are you really going to invest all of the Purpose Prize money you were awarded in foster care innovation?"
The answer to that last question is, "Yes!"
Every year, 25,000 young people leave our public foster care system alone and head out into the world without all of the supports that we take for granted: enduring family relationships, community connections, a home.
My colleagues and I believe that this number should be zero! We believe that every child should be rooted in family and community so they are never at risk of "aging out" of the care and support we all need.
To Reporters Everywhere: Please keep the calls and questions coming!
I am profoundly grateful to have won this prestigious national award. I vow to
use it to help inspire widespread investment in foster care innovation.
Here's to the kids!
Here's to Re-Envisioning Foster Care in America!
Here's to everyone who supports the REFCA Menu of Engagement Options!