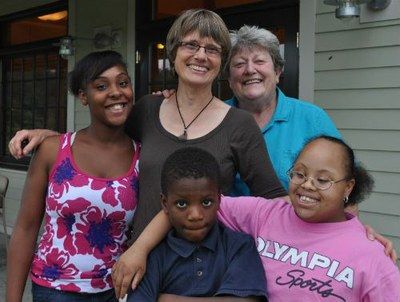 If you walk into the Treehouse Community Center these days you will hear the rat-a-tat sound of a floor drill. We are replacing the floor in the Gathering Space – the largest area of the TCC where we all gather for Soup Tastings, Treehouse Teas, homework, birthday parties, adoption celebrations, Re- Envisioning Foster Care Working Group meetings, sign language classes, seasonal fiestas, celebrations of life, art projects, pot lucks, regional gatherings,and much more!
Replacing the floor has given us an opportunity to use many other parts of the Community Center to host events. Last week-end the HEROES Youth Leadership Project used the Kitchen, Library and Foyer when making a film. "Grace & Flexibility" is our motto!
Yesterday afternoon I opened the door to the Library and was delighted to encounter more than a dozen people, ranging in age from 3 weeks old to 65 years, engaged in an array of activities. "What fun!", I thought and immediately walked over to meet our newest Treehouse community member who was sleeping in the arms of a loving neighbor.
After greeting everyone I found an open spot at the Homework Table where Westfield State interns, a young girl and a lovely elder were making Christmas tree ornaments and two teens were researching job openings at the Holyoke Mall.
Treehouse Community Facilitator, Kerry Homstead, was reading a college application essay that had just been completed by one of our high school seniors. As she gave him feedback our Treehouse Tutor checked in with another youth who had requested help with her homework. They decided to go to the Conference Room where they could work on a project that required more space and a quieter work environment. A Treehouse staff member was seated on the couch engaged in a lively discussion with several young people.
Kerry finished reading the college application essay and began to take photos of the group. A mom walked in and asked if the tutor might have time to fit her daughter into the day's Homework Help schedule. After she signed her up, she headed out to take her younger daughter to an appointment. Arrangements were made to transport her daughter home after the science homework was complete.
Conversations in English, Spanish, Spanglish and Sign Language filled the room. When our newest Treehouse community member woke up and needed a diaper change, I offered to help. We were all delighted that the baby was waking up. As we made our way through the foyer to the bathroom we spoke gently to her. For a community of people who are on a mission to serve children whose lives have been impacted by foster care, we are honored to have the opportunity to support the health and well-being of infants, toddlers, pre-schoolers, elementary aged children, middle schoolers, teens and young adults living on Treehouse Circle.
As I placed the baby gently onto the changing table and began to unfold her tiny diaper, the door to the Women's Room opened and a lovely young woman requested a ride to the high school so she could attend an important meeting. Her mom was still at work and had suggested that her daughter walk down to the Treehouse Community Center to see if someone was available to help out. Her kind neighbor said, "Sure!" and off they went.
After the baby had been diapered and was carefully wrapped up in a colorful fleece blanket, her family arrived to pick her up. We exchanged greetings, hugs and information. Then they headed home. Another mom stopped by to pick up her mail and chat. One of the Treehouse staff members took a group of kids outside for some fresh air. They headed for the playground.
The workers put their drills away and began to pack up. The afternoon's Sign Language class ended and students stopped by the Library to check on our progress and share what they learned during their time together. The young man who had been working on his college application essay wished everyone a good night and went home to eat dinner. Two of his siblings came over to the Library as he was leaving and began their homework.
Those of us who had been making Christmas tree ornaments congratulated one another on our success – a lovely tray of handcrafted bells.
As I was cutting out my last felt leaf of the day, I heard laughter. Glancing up, I had the pleasure of seeing two young friends, one deaf and one hearing, engaged in a conversation about a movie they had both clearly enjoyed. As they conversed their moms and siblings were making plans to get together later in the week.
Life on Treehouse Circle is full of connection, goodness and belonging. Something we all need. I'm delighted that replacing the Treehouse Community Center floor has given us this opportunity to gather together and share our lives in such caring and creative ways!