Evelyn Harris & Marcia Gomes @ Tree Cat Cafe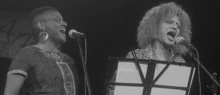 Tree Cat Cafe is a youth-run business at the intergenerational Treehouse Community. This Tree Cat Cafe will benefit NuDay Syria to aid mothers and children both inside Syria and displaced from Syria in the bordering areas. Come join us for an evening of delicious food and inspiring music! Tickets - $15 in advance, $20 at the door. Buy your tickets at - https://treecatcafe.brownpapertickets.com/
Evelyn Harris is an artist, performer, Grammy-nominated composer, arranger, and former member of the internationally acclaimed African American womens a capella ensemble, Sweet Honey in the Rock. Marcia Gomes is a jazz, R&B, Latin and gospel-influenced vocalist, composer, and multi-instrumentalist. She is a Cleo Laine vocal scholarship recipient and graduate of Berklee College of Music.
The TreeCat Café is a cafe and performance venue managed by youth who have experienced foster care and who live at the Treehouse Community and participate in the HEROES Leadership Project. The TreeCat Café provides high school and college-aged Treehouse and HEROES youth with opportunities to take on new leadership responsibilities and develop the confidence and skills to run their own business. They do this with the support of local business owners and elders of the Treehouse Community, who offer their expertise and mentor youth in entrepreneurial skills.
Soup from the cookbook, Soup for Syria, will be served at the event. Soup for Syria includes recipes from acclaimed chefs and cookbook authors from around the world who have joined food relief efforts to alleviate the suffering of Syrian refugees. The book will be available for purchase and proceeds from the book will also be donated to NuDay Syria.