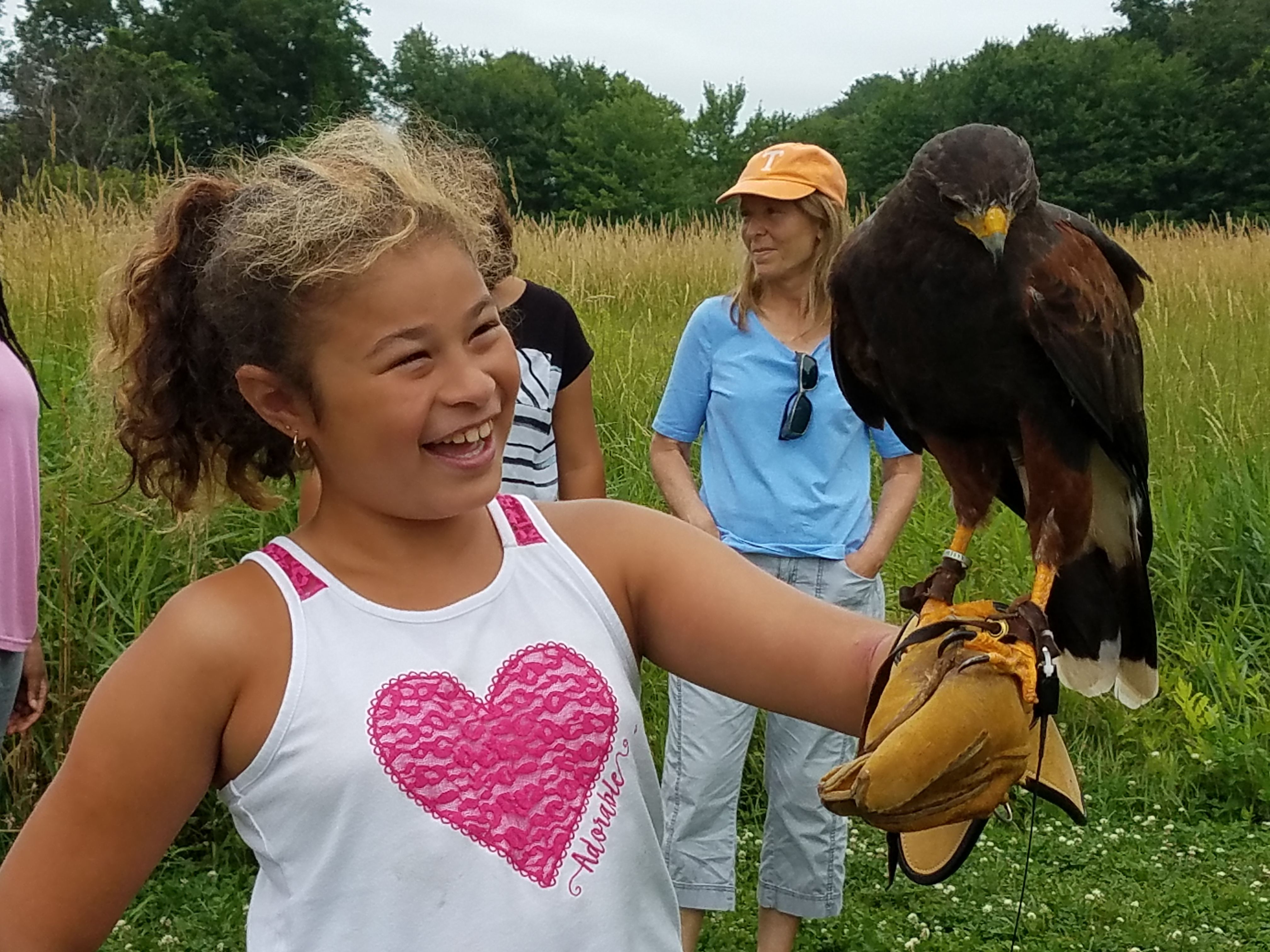 Lazy, hazy days in the sun, climbing adventures, movies and museums on hot days.  Summertime isn't always full of fun for children and youth who grow up in foster care, but at Treehouse it is.  With elder residents and community volunteers as their surrogate grandparents this summer, Treehouse kids got strikes and gutter balls at Northampton Bowl, they explored the Springfield Museums, reached for the highest hand holds at Central Rock Climbing in Hadley, stomped and jumped at Billy Beez's Indoor Playground in Holyoke and at the indoor park at Millpark 180 in Easthampton, checked out books at the Easthampton Public Library, went to the movies, and even got to handle a bird of prey at New England Falconry!  
Treehouse Community members also enjoyed a special art class offered by a professor Chuck Stigliano from the Massachusetts College of Arts who visited for an afternoon in August with his wife, artist Stephanie Stigliano.  Young Ashlynn, a talented artist, drew a horse.  Senior resident Pam drew a dog on the lap of a woman, herself.  All were encouraged to set down inhibitions and pick up paper and pencil, together.
And then there are the camps!  Several Treehouse children and youth, with the support of their families, experienced camps far and wide.  Two children went to a week-long music camp, one went to a language immersion program in Spain while others stayed at Camp Jabberwocky on Martha's Vineyard, and others still at camps on the Cape.  Thanks to generous members of The Helping Hand Society in Easthampton, two young people enjoyed a week of summer camp and four families splashed with summer pool passes at Nonotuck Park. 
Some of the older youth got up every day and worked summer jobs.  Our Treehouse "honorary grandparents" supported families in all kinds of ways:  babysitting, driving kids to work or play and picking them up, and just being there as steady, loving, patient adults.