HEROES Youth Leadership Program
HEROES Youth Leadership Program
The HEROES Leadership Project is an important part of the Re-Envisioning Foster Care in America Movement. Project members contribute their voice, experience, and talent to create a supportive and engaging community for youth impacted by foster care and adoption.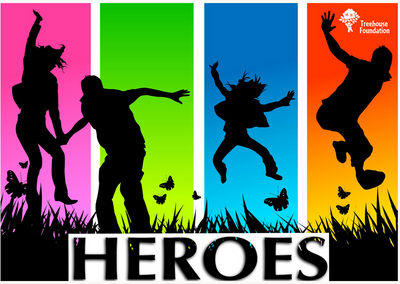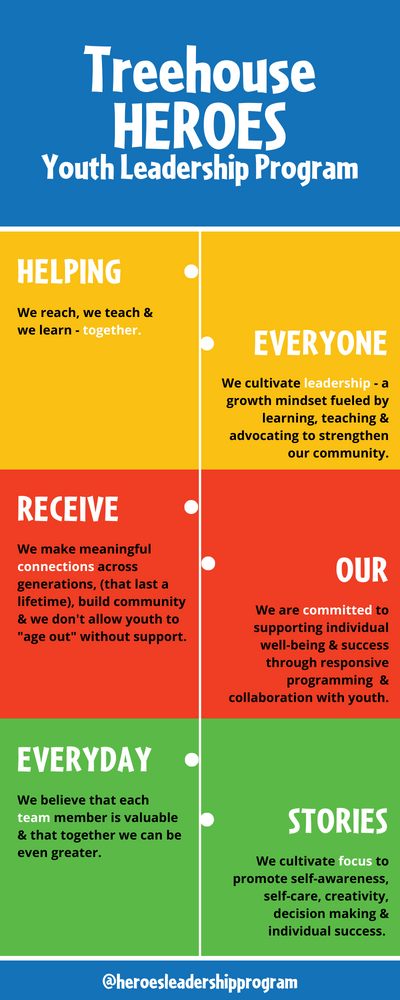 Objectives
Change – Members are trained and supported to be leaders and advocates for youth currently in foster care and those who have emancipated from it.
 
Teach – Members are trained and supported to be educators spreading knowledge about foster care and adoption.
 
Build Community – Members create and develop a supportive network of individuals committed to the health and well being of all youth in the Pioneer Valley.
FAQ
What is HEROES?

The Treehouse HEROES Youth Leadership Program of the Treehouse Foundation's Re-Envisioning Foster Care in America Movement launched in December of 2011. HEROES (Helping Everyone Receive Our Everyday Stories) has been a growing and evolving catalyst for youth engagement in the Re-Envisioning Foster Care in America Movement ever since. 

Our three-fold mission, to Change, to Teach, and to Build Community is accomplished through an equitable intergenerational partnership where the voices of youth are elevated, included, and respected. Through the arts, adventure, and advocacy we help young people develop into connected and productive leaders in their own lives, the lives of their peers, and in their families and communities.

The Treehouse HEROES Youth Leadership Program is a membership-based program for young people impacted by foster care and adoption. It is designed to offer opportunities for youth to promote growth in the domains of:

Civic engagement
Character development
Leadership development

Who can join HEROES?

◦ Membership in the HEROES Project is open to all young people ages 14 – 24 whose lives have been impacted by foster care or adoption. We take a very broad view of the term foster care to include any youth who has had to spend time being parented outside of their birth family.

Is there a cost to join HEROES? Is there a commitment?

There is currently no cost for membership in HEROES. As long as funding remains strong we hope to continue to offer programming without a fee

What is the purpose or mission of HEROES?

◦ The young people who participate in the HEROES program benefit from skills development applicable to their daily lives. However, the HEROES program also has a public or outward mission. The vision for the HEROES program was created collaboratively with youth and adults and reads:

◦ As HEROES we are devoted to empowering youth to create a better foster care system. Through connecting with others and building relationships, we will make everyone feel comfortable and a part of our community. By changing people's perceptions, we will make a difference.

What can HEROES members do?

The majority of our programming occurs during the school year. We offer a mixture of social/community-building events, community service options, and public speaking. There is no requirement to speak publicly to be a member of HEROES and all youth who do speak are trained prior to any event. All members are allowed to choose from an extensive menu of options to tailor their participation to meet their needs.

What about transportation and food?

Sharing a meal together is one of the special parts of the HEROES program that we all enjoy. We keep our young people fed and happy! We can also assist in coordinating/providing transportation. Through the use of carpools and volunteers, we hope to never have to turn a young person away because of transportation.

Is HEROES a "therapeutic group or program?" Is HEROES "therapy?"

While we understand that the work we do and the relationships we build are powerful and healing in nature, HEROES is not a therapy group or program. Youth may naturally share parts of their life experience with peers during activities and staff/volunteers are always present to help young people process their experience with HEROES. We rely on the judgment of families, caregivers, and other referral sources to determine if the HEROES experience is a good fit for any particular youth. If you have questions about what we can and cannot offer, please give us a call.
Online Event
Our Partners