The Problem
Every day, in child welfare offices across America, girls and boys living in foster care wait to find out where they will go next. Their belongings sit next to them on the floor... in garbage bags.
Our Solution
Help restore their hope and dignity! Provide children and youth with a brand new suitcase or duffle bag to replace their garbage bags.
Send them a message:
You deserve to be treated with respect.
You are a valued member of our community.
Even if we can't be foster or adoptive parents, we want to help.
The Suitcase Challenge is a great opportunity to do something important for youngsters who need us. It's an easy way you can help whether you are part of a school group, faith-based organization, scout troop, civic group, any other organization or simply an individual who wants to make a real difference.
About the Suitcase Project
The Suitcase Project Challenge is an initiative of Re-Envisioning Foster Care in America (REFCA), designed to give people of all ages and backgrounds a way to help children and youth in their community – from infants to teens and young adults – who, through no fault of their own, are living in foster care.
Please Join Us!
Our goal is to greatly increase the number of suitcases and duffle bags available to youngsters in care all across the country, as well as to expand the number of people who – in this simple, inexpensive way – are investing in the hopes, dreams and futures of our nation's most vulnerable children and youth.
Send an email to ypetretti@treehousefoundation.net and we'll let you know where you can drop off the suitcases or duffle bags you purchase.
Donate online now and we'll do the shopping for you!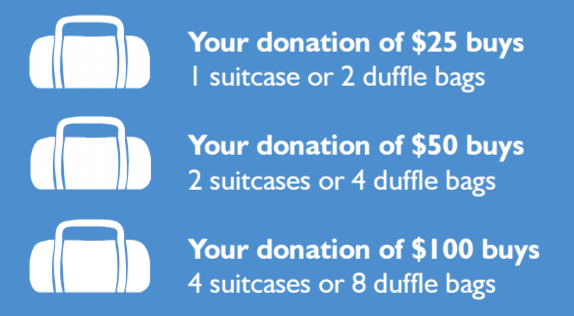 You get the idea. The more you contribute, the more suitcases and duffles we can provide to the tens of thousands of children and youth who need them. Who need us ...
Checks can be sent to:
Treehouse Foundation 
1 Treehouse Circle
Easthampton, MA 01027
Thank you!
We appreciate your help and generosity. Together, we are inspiring a Re-Envisioning of Foster Care in America!