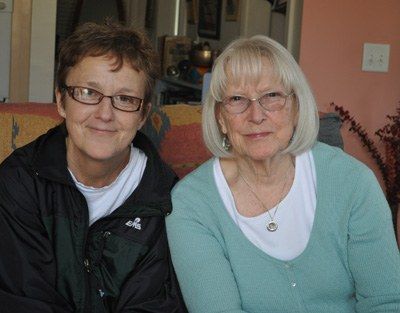 Mary Steele
When it was time for me to retire and I was looking for a new challenge, I remembered hearing Judy Cockerton speak at a church service about a vision she had for creating an intergenerational community. I had been moved by the concept of older folks interacting with foster/adoptive families and was excited to learn that Treehouse had indeed become a reality. Perhaps this was a place I could live and continue to use skills acquired after years of being a parent to three children, raising a troubled grandchild and working as a teacher, counselor and administrator of several programs for children and adults.
When I drove into Treehouse for the first time to check things out, I was stunned by the beauty of the open meadow backed up by Mt. Tom and the attractive, neat circle of houses. After being warmly welcomed by Kerry, I immediately felt this was the place for me and I submitted my application to move here.
Living here for nearly three years now has been a rewarding experience. I love my cottage and the peaceful and safe environment. I immediately volunteered to help out with one of the little girls who was having issues adjusting to her newly adopted younger sister. I would pick her up after school and we would go for ice cream or to get her nails painted, or for a walk in the park and then back to my house for our ritual supper of macaroni and cheese with mandarin oranges.
Since then it has been my pleasure to get to know many of the children and I have helped out by providing transportation to appointments, caring for them when parents need a break, helping with homework or just hanging out. They very quickly worm their way into one's heart and it is rewarding to know this attention is helping children feel they are valuable and loved. It has been a pleasure helping with some of the special projects like the arts program or my favorite… rowing on the river.
Rowing spurs me to mention the close relationships that develop with our peers in the community. Some of us have been sculling on the river for three summers now. What fun! We come together to share meals, watch movies, hike, exercise, converse, meditate, laugh and develop new programs. The Community Council meets monthly and out of that gathering new projects have developed.
One project I especially enjoy has been the development of the Peace Team committee. Our first project was to sponsor a Compassionate Listening Training. This training teaches how to be present to each other, to truly listen until a deep understanding occurs and we come to the realization that we humans all have similar needs.
Yael Petretti came all the way from Israel to lead the training and was so impressed with Treehouse that she is moving here! The Peace Team uses this pool of trained residents, making them available for listening and providing resources to anyone in the community who may need assistance with conflict resolution. The Peace Team also sponsored the planting of a Peace Pole and is planning other activities designed to connect Treehouse residents in promoting a culture of peace in the community.
At times our older neighbors need help with transportation or attention during an illness. Living together allows us to feel there are others who care for us and will be close at hand when we have needs. We cook for each other, pet sit and walk dogs.
We have a wonderful staff here. Each one of them is compassionate, helpful and available. One new woman expressed to me the other day that she had never before lived anywhere where the building staff knew the names of her four girls and really cared for her family.
Much more could be said, but I will just conclude by saying I appreciate the opportunity to live in such a unique, cutting-edge community. I believe Treehouse is a model worth duplicating in other areas of the country and I am grateful to all who collaborate to keep this model happening. It certainly enriches my life to live here.
~ In gratitude, Mary Steele