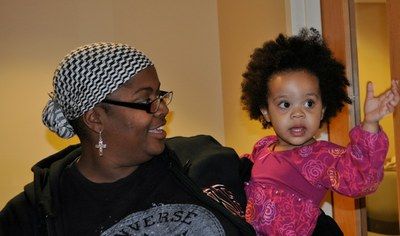 Pam Lumpkin
Pam's family consists of her two birth children: her oldest daughter who is 20 years old and her son,18 years old, and her two children who came to her from the public foster care system. Her oldest foster daughter has Down syndrome and multiple needs that require constant attention. Some senior neighbors have been a wonderful support to this child. Her youngest daughter, who is birth sister to her other foster daughter, came to Pam's home a couple of years later. The daily informal interactions with supportive neighbors and the activities offered in the community are an investment in their growth and stability as a family.
On any given day you might see Pam driving off to a school meeting or a doctors appointment for one of the children. She also monitors and supervises the children on a daily basis through home and school routines. Pam engages with community members often offering help and support to a neighbor who is overwhelmed with household chores, child-rearing issues, caring for aging parents, or suffering with illness. In the evening you might find Pam shuttling the family off to their church gatherings and choir practice. Through the years Pam's home has been a spontaneous gathering place for youngsters in the community.

Pam's two foster daughters regularly participate in community programs including the Arts and Learning Program, Young Women's Art Group, Treehouse Choir, Black History Month – which Pam has planned and led – and countless holiday celebrations and Treehouse Teas and potluck dinners. Treehouse elders have been engaged and committed to supporting Pam and her family and the growth, progress and stability of all four of Pam's children. 

Pam has also participated in the Treehouse Strategic Planning process, bringing the valuable perspective of families to the planning. She has created a Team of elders, friends and neighbors who have met to help strategize and support the family regarding presenting issues for either a specific child or the entire family. In addition, she is always willing to offer a helping hand, whether in theTreehouse kitchen during events, decorating the Community Room for functions, or just informal gatherings of friends and neighbors.