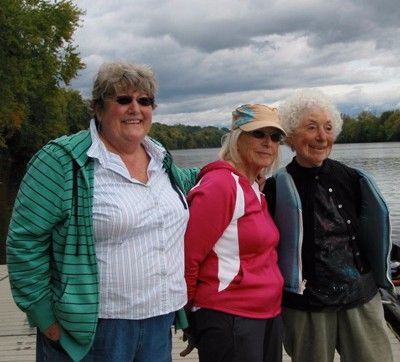 Rosa Young
It was nearly six years ago, when my dog Chloe and I jumped into an RV overflowing with our belongings and drove 1,000 miles to Treehouse. The description of the Treehouse Community in Easthampton on National Public Radio, a conversation with Kerry, the Treehouse website and written materials lured me to take a leap of faith and move to Massachusetts from Michigan.
We are blessed with the presence of 35 children at Treehouse.  All of them are benefiting from being together in a community dedicated to creating a safe, loving and fun place where they can count on their families, friends and neighbors to help them become the wonderful, unique, talented children that they are.
Kids at Treehouse play, laugh, dance, sing with the coyotes, paint, participate in sports, create music, share their ideas, and contribute their gifts.  They are here for one another in a very special way.  All of them know what life was like in foster care and they have a very special bond and relationship with one another because of it.
Elders recently wrote in a questionnaire that our children are wonderful, polite,  loving, helpful, energetic, and a joy to be around.  They call us Grandma, Grandpa, Mama and Dad. They embrace us, explore with us, work on projects with us, and help us every day. In short, they bless our lives.
Elders also shared that Treehouse provides opportunities to get involved in meaningful activities and grow.  Treehouse is beautiful, convenient, safe, secure, affordable, and friendly.
There are good neighbors, wonderful people of all ages, and friends who are willing to help one another. One Treehouse member wrote.  "When I come down that hill and round the corner, I feel at peace. Treehouse is my home." I am so glad I took that leap of faith and moved to Treehouse.  Living here brings me so much joy.